Stress-Free Home Searches – How to Look for a Home the Simple Way
Your time is valuable – and buying a home (especially your first) can be an intimidating process for people. We make the process as simple as possible in order to make the most of your time. Creek Realty agents work with you from start to finish to create stress-free home searches; we think you might even find the process a fun one!
Where do we start when searching for a home?
The first step in any home search is pre-approval. The first step can be talking to a professional at your current bank, or looking for mortgage providers in your area. There are a number of organizations that provide mortgages including banks, credit unions, and specialty mortgage banks including Mid Country or Alerus . Starting with pre-approval helps you have the best understanding of what your budget is and what monthly payments look like for your situation. If you've already seen a house on the Creek Realty Property Search, you can use our Mortgage Calculator to get an estimate. From this meeting you will most likely receive a pre-approval letter indicating how much you will be approved for – with that in hand, we're in the best position to help you find a home in your budget!
Questions to Ask Yourself about your Ideal home
Chances are you have some idea of where you might want to live, but if you don't, here are some questions to consider:
Do I want to be close to my place of work?
Is public transportation important to me such as local buses, bicycling or commuter rail?
What amenities and services do I want or need close by? (Grocery, shopping, parks and trails, restaurants, etc)
How many specific rooms fit my needs today? (Bedrooms, bathrooms, additional space)
What needs do I foresee changing in 5,10, 15 years and beyond? (Will the house size from the line above meet your needs down the road?)
Do I have style preferences or anything that I have long dreamed about having in a house?
Where should I look for a house?
With some questions answered, we can start looking for a home that meets your needs immediately, and we can arrange most showings in 24 hours, so it's important to have done some homework. Our agents can keep you notified of houses in your price range, size, neighborhood and of certain styles as frequently as you would like to know, and we have a number of tools. If you're just starting to look, consider our email update signup – you can be notified of new properties that meet your needs.
If you want to begin your search in earnest, we can even provide you with a private portal and immediate updates on new properties for you. Take a look at this example portal. The first photo is the welcome page – when we send you emails, they are saved here. We can also associate multiple "Auto Searches" for different areas or home types.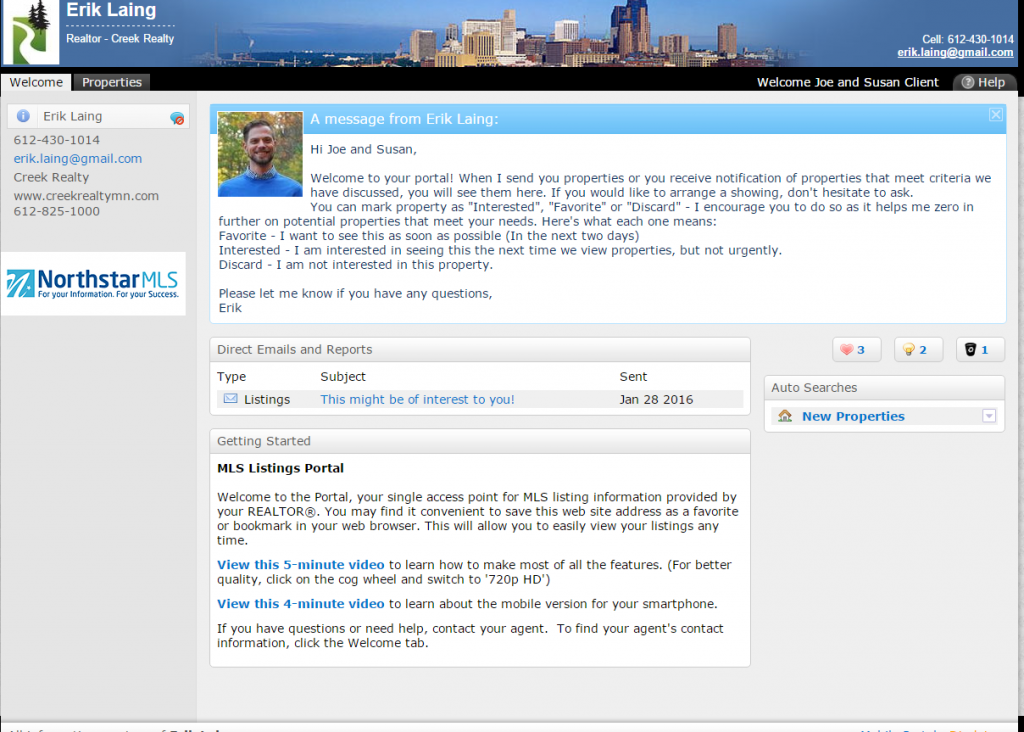 Every time a new property lists that meets the criteria, it automatically gets added to your Portal under the properties tab. You receive emails only as often as you like – whether it's with each new listing, down to once a week with every option in between. Take a look below: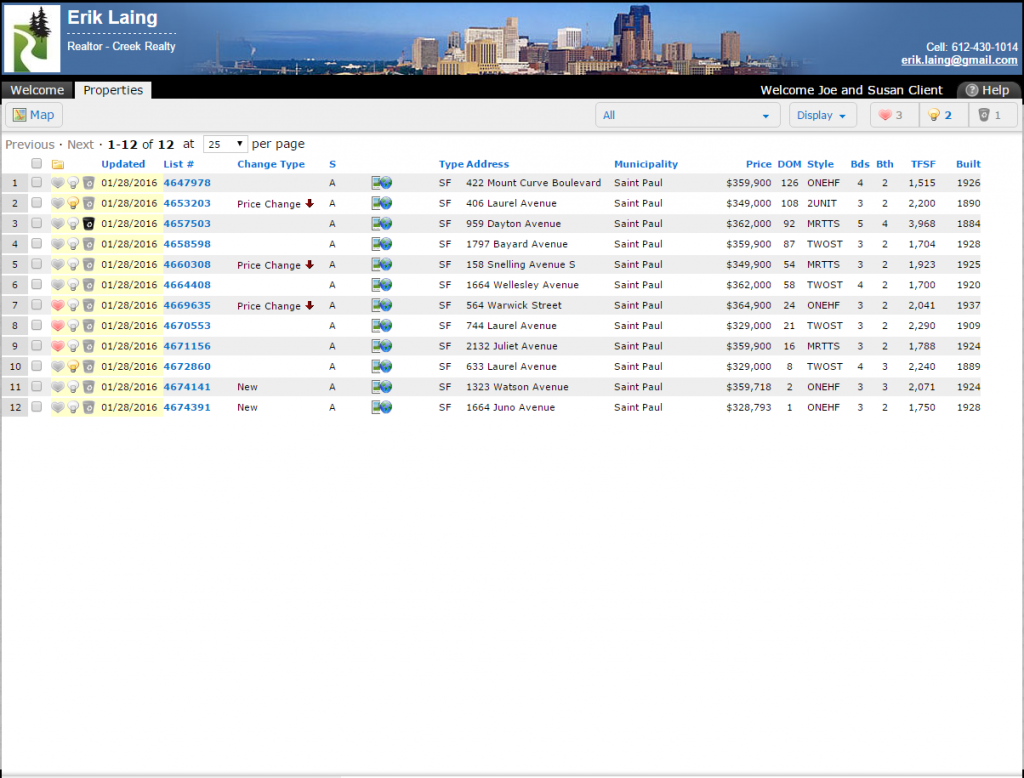 Your portal is private, and only you have a link to it, plus it's mobile friendly meaning you can easily look at it on the go! So what are you waiting for. Start your home search today by contacting one of our Agents.